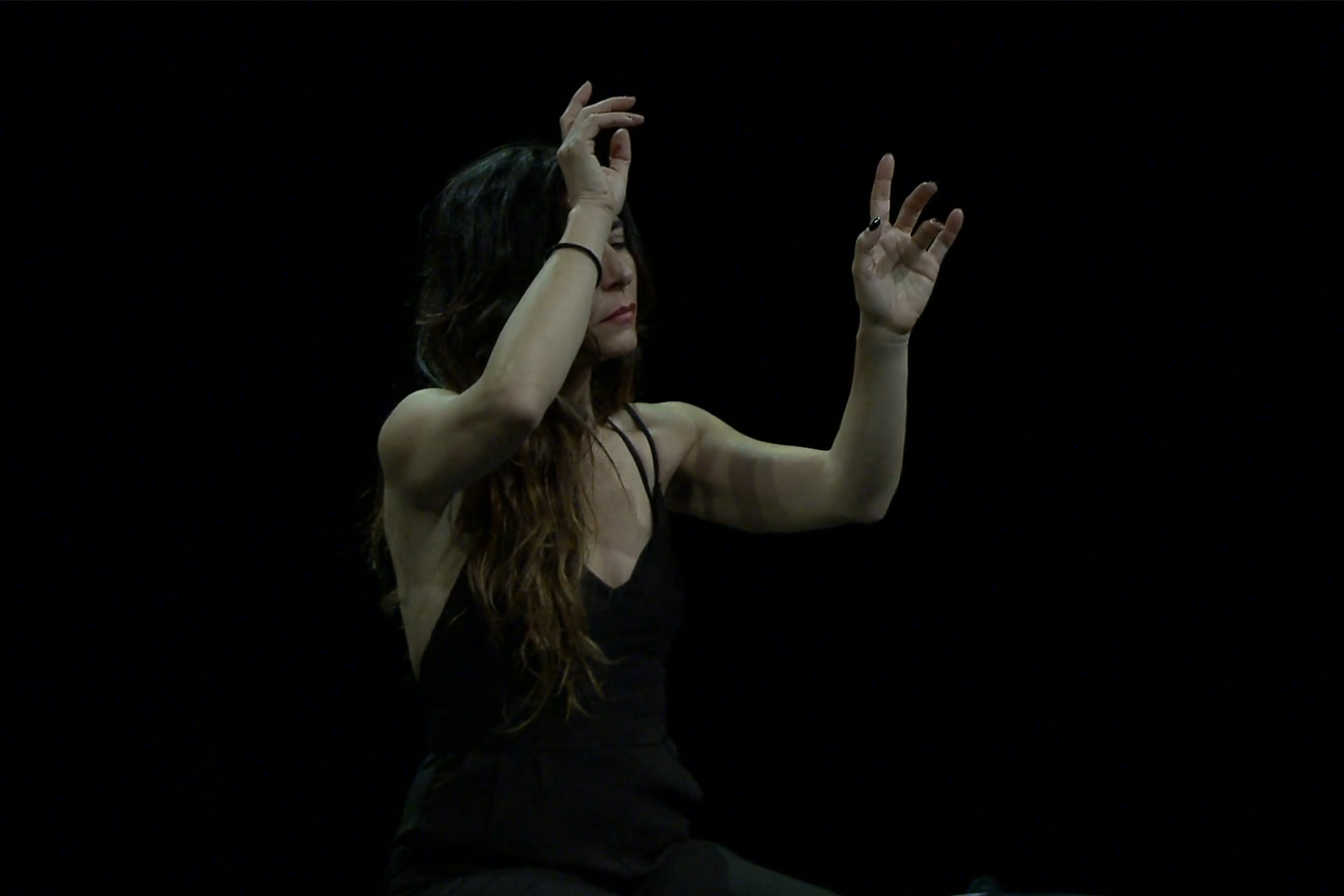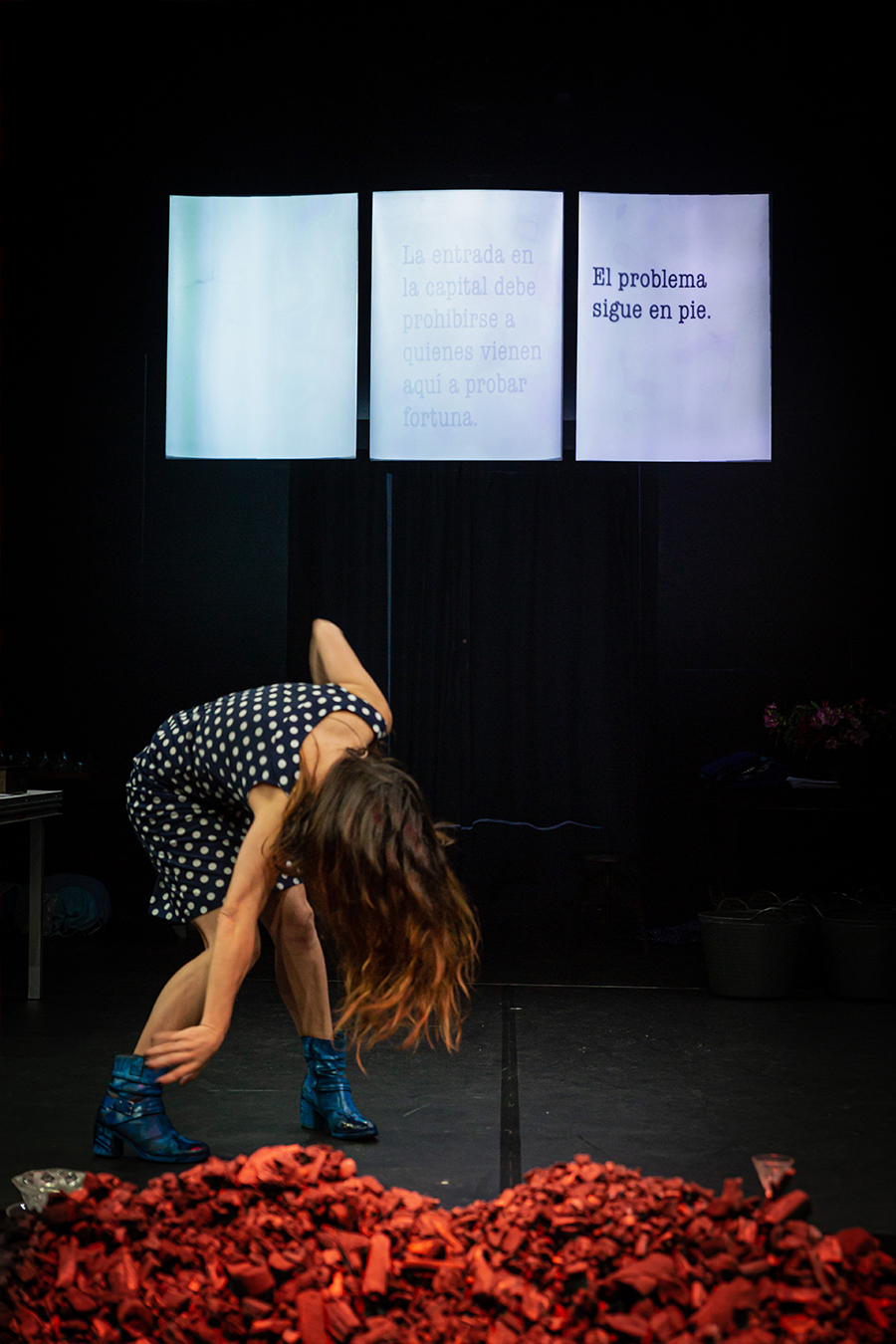 FORASTERS VINDRAN… (2021)
Forasters vindran… [Foreigners will come…] is a project that brings together a group of independent artists working in the theatre, plastic and audiovisual arts and professionals working in art mediation, social and community action and historical research, in order to investigate different methodologies that involve the emergence of elements of what is 'real' in formal or artistic composition. The idea is to explore how this information that comes from reality, testimony and life can be transferred to the context of artistic work or theatrical fiction.
The creation we present at the Espai Lliure focuses on historical and documentary research, involving people who migrated to Barcelona in the 1950s and 1960s. Despite their defencelessness and vulnerability, their testimonies highlight movements involving self-organisation, struggle by neighbourhood residents, and people building their own homes, lives and futures… These futures are embodied and present in the autobiographical story of Susanna Barranco, a granddaughter of this migratory process.
In collaboration with: Oficina de Suport a la Iniciativa Cultural (OSIC). Departament de Cultura
THEATRE ART: Susanna Barranco, Marta Galán Sala, Núria Lloansi and Juan Navarro
DRAMATURGY AND DIRECTION: Marta Galán Sala
CAST: Susanna Barranco, Núria Lloansi and Juan Navarro
LIGHTING: Ana Rovira
STAGE DESIGN OF THEATRICAL RESOURCES: Xesca Salvà
CAMERA AND VISUAL RECORDING: Susanna Barranco and Christian Guiriguet
AUDIOVISUAL EDITING AND DESIGN: Martin Elena and Susanna Barranco
COSTUMES: Anna Estany / annatrash_studio_barcelona
HISTORICAL DOCUMENTATION: OVQ / Observatori de la Vida Quotidiana
SOUND: Àlex Polls
SOUNDTRACK COLLABORATION: Juan Navarro
TRAINEE DIRECTOR ASSISTANT AND PSYCHOPHYSICAL COACH: Pau Dudekula
PEDAGOGICAL INITIATIVES AND COMMUNITY AND DOCUMENTARY RESEARCH (from September to December 2020)
Young people on the "Construeix-te" ["Build yourself"] programme by Fundació Comtal: Lamin Ceesay, Hagouna Kande, Redouane Kabouri, Abdul Mutalib, Alhadj Mane, Moussa Ben Sliman, Mohamed Aamir, Mohamed Ben Moula, Mohamed Moustapha, Ouissame Chami, Ousmane Sarr, Issa Diarra, Aboubacar Sidik Toure, Hassan Baiherr, Ousmane Nadeen and Mohamed Benazzoor
with the trainer Maria Abella
Residents involved in the community art project by Antic Teatre: Maria Isabel Gutiérrez, Aurora Roig, Graciela Alonso, Jonathan Ballester, Enrique Ibáñez, Emilia Martín, Mercè Martínez, Francesca Navarrete, Mari Creu Paván, Yolanda Prieto
therapeutic support Montserrat Iranzo
video recording and editing Abel Montes
Working group on migration in the 1950s and 1960s in the El Carmel, La Teixonera, Sant Genís dels Agudells and Trinitat Vella neighbourhoods: Custodia Moreno, Francisco Rosales, Francisco Barranco, Gracia Alférez, Lolina Alférez, Francisco Arévalo, Jose María Calvo "El Rubio" and Trinidad Abadía
DESIGN AND COORDINATION OF COMMUNITY PROCESSES: Marta Galán Sala / TRANSlab.
COMTAL FOUNDATION YOUNG PEOPLE'S GROUP
Artistic mediation: Transductores
Artistic Training and Laboratories: Creation of RAPS and production of musical themes with Mohi Lee / Elasri Música-Estudio Khay (Terrassa) and Ismael El Sabanne, visual and plastic art  with nicolas spinosa, body and acrobatics with Pau Dudekula
HISTORICAL RESEARCH AND COMMUNITY MEDIATION
Migration in Barcelona in the 1950s and 1960s: Pablo G. Morandi and Andrés Antebi (OVQ / Observatori de la Vida Quotidiana)
THEORETICAL RESEARCH, ADVICE ON CONTENT ON MIGRATION AND SUPPORT IN COMMUNITY METHODOLOGIES: Silvia G. Màrquez
VIDEO CAMERAS AND RECORDING IN LABORATORIES: LabarrancoFilms
cameras Susanna Barranco and Christian Guiriguet
production assistant Meritxell Casas
shooting assistant Facundo Savarino
MANAGEMENT: Susanna Barranco / Mousiké
MANAGEMENT ASSISTENT: Dolors Galí
ARCHIVE MATERIALS: Notes sur l'émigration – Espagne 1960 – La col·lecció del 2CR (1962) by Jacinto Esteva, Paolo Brunatto
PRODUCTION: Teatre Lliure / Marta Galán Sala
WITH THE COLLABORATION OF: BornLab, programa de proximitat d'El Born CCCM coordinat per Transductores and La Labertina, Espai La Barranco and UOC / Estudis de Ciències de l´Educació i Psicologia, Projecte Artístic Comunitari de l'Antic Teatre
PHOTOGRAPHY: Sílvia Poch